China Coal Group Was Invited To Participate In The Jining City Bureau Of Human Resources And Social Security Webcast Job Fair
In order to better promote the interactive docking between enterprises and job seekers during the outbreak, on May 15th, a webcast job fair held by Bureau Of Human Resources And Social Security in Jining City was held. This event innovated online recruitment methods and adopted online live recruitment As a model, China Coal Group was invited to participate as a representative of key enterprises in Jining City.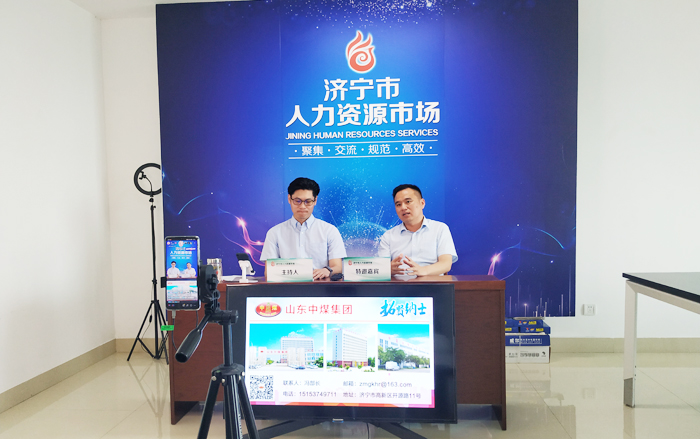 On the live broadcast, Mr. Li first introduced the scale of China Coal Group's enterprises, the development of major industries, future development plans, etc., and focused on the job requirements, benefits, new employee training and career development prospects for this recruitment. . This time our group mainly recruits different positions in various fields such as e-commerce, foreign trade specialists, network promotion, foreign trade network promotion, web front end, Java development, UI design, PHP development, drone instructor, software sales, etc. New employees will have targeted learning and training after taking up their posts, with broad development prospects, large promotion space, and good benefits. During the live broadcast, our group's strong group strength, good career prospects and generous welfare treatment attracted many netizens to come to consult, interact and leave messages, and the response was enthusiastic.
As a large private enterprise supported by the state, provinces and cities, China Coal Group, with the strong support of governments at all levels, has a solid foundation in the spirit of being responsible for the country, socially responsible, customers and employees. It has been dedicated to development, and after 26 years of development, it has achieved a double harvest of economic and social benefits. The Group has made outstanding achievements in many fields such as intelligent equipment manufacturing, software research and development, industrial Internet, smart agriculture, and intelligent logistics. It has been highly evaluated by leaders of many countries and provinces and cities. Create a demonstration platform enterprise, an excellent enterprise in China's machinery industry, an excellent enterprise in China's "specialization and special", a top ten enterprise in China's operation and manufacturing equipment, an enterprise of Shandong Province Outstanding Contribution Award, a 5G pilot demonstration enterprise in Shandong Province, and Shandong Province Innovation demonstration enterprises, Shandong Province "one enterprise and one technology" innovation enterprise, Jining high-tech enterprise, Jining outstanding private enterprise and many other honors have made positive contributions to the economic development of the city and the whole province.!
Over the years, China Coal Group has always attached great importance to the cultivation of backup talents. It is a member unit of the China School-Enterprise Cooperation Alliance. The Group has successively reached school-enterprise cooperation alliances with many key universities in China. Practical teaching base and e-commerce training base strengthened cooperation with colleges and universities in personnel training, scientific and technological research and development, and trained a group of innovative talents with high quality and high skills. While serving the society, it also laid a solid foundation for the Group's global development strategy Talent base!