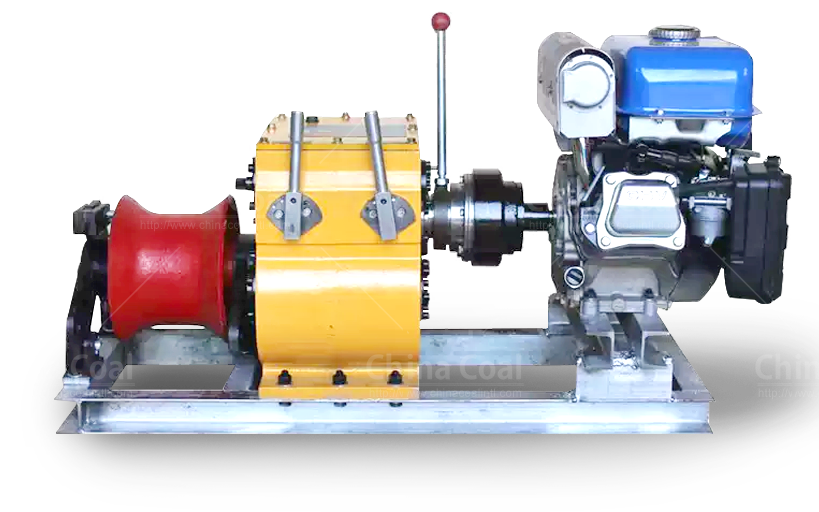 DIESEL WINCH
Is a human or mechanical power driven drum, winding traction rope to complete the installation work.
TRACTION CABLE
LIFTING HEAVY OBJECTS
ASSEMBLE THE POLE TOWER
DIESEL WINCH
— FOUR MAJOR ADVANTAGES —
FLEXIBLE OPERATION

---

STABLE PERFORMANCE

---

COST-EFFECTIVE

---

QUALITY ASSURANCE
DIESEL WINCH
— PRODUCT DESCRIPTION —
Is a human or mechanical power driven drum, winding traction rope to complete the installation work.
Mainly used for power transmission project (including underground power cable engineering),Telecommunications, telecommunications engineering construction tower erection, the traction cable, tighten the wire, lifting weights and tools.Especially suitable for small batch operations within the city.
DIESEL WINCH
Can be vertical, horizontal or inclined dragging.
DIESEL WINCH
— SCOPE OF APPLICATION —
Widely used in transmission line construction in the bar, tower, tight line operation, or tools and lifting heavy objects.

The host weight, especially suitable for field without power site use.

Any model, used in power site, can be configured motor power.
DIESEL WINCH
— PRODUCT DETAILS —
DOUBLE-SPEED GEARBOX

---

The fast and slow gears and anyway gears are independently designed,Easy switching between forward and reverse,The operation is convenient and not easy to be out of the gear.
U-SHAPED THICKENING ROLLER

---

The U-shaped thick drum wire rope is not easy to fall off,Hot pressing film is formed at one time,Load-bearing.
BUTT SHAFT DRIVE

---

Fast speed, large torque,Carrying stronger,Stable performance and high work efficiency.
Because the production batches, the different models, the picture is for reference only,
Please contact our sales staff for specific verification
DIESEL WINCH
— PRODUCT STRUCTURE —
WRINGING CORE
TRANSMISSION ASSEMBLY
CLUTCH
ENGINE ASSEMBLY
BASE
FAST AND SLOW
POSITIVE AND NEGATIVE GEAR
TRANSMISSION SYSTEM
PURE COPPER MOTOR
DIESEL WINCH
— TECHNICAL PARAMETERS —
Winch No.
Model
Capacity Traction
Traction Speed
Power Disposition
Rotation
Weight
(KN)
(m/min)
(Kg)
High
Speed
Low
Speed
High
Speed
Low
Speed
46-2
JM-5Q
15
50
13
4
13HP390 Gasoline Generator
Belt
Rotation
140
JM-5C
15
50
13
4
15HP185 Disel Generator
160
46-5
JM-5A
15
50
26
5
13HP390 Gasoline Generator
Axial
Rotation
138
JM-5A
15
50
26
5
15HP185 Disel Generator
148
46-6
JMS-5Q
15
50
18
9
13HP390 Gasoline Generator
Double
Drum
145
JMS-5C
15
50
18
9
15HP185 Disel Generator
160
DIESEL WINCH
— OUR STRENGTH —

Shandong China Coal Industrial & Mining Supplies Group Co.,Ltd (hereinafter referred to as China Coal) is a group company, which is a collection of e-commerce, machinery manufacturing, software, research and development, modern logistics of large diversified industrial group. The group has 100 million yuan registered capital , with more than 1100 employees.