China Coal Group Kate Robotics' Intelligent Products Is Selected As The Recommended Catalogue Of Response To Outbreak Artificial Intelligence Products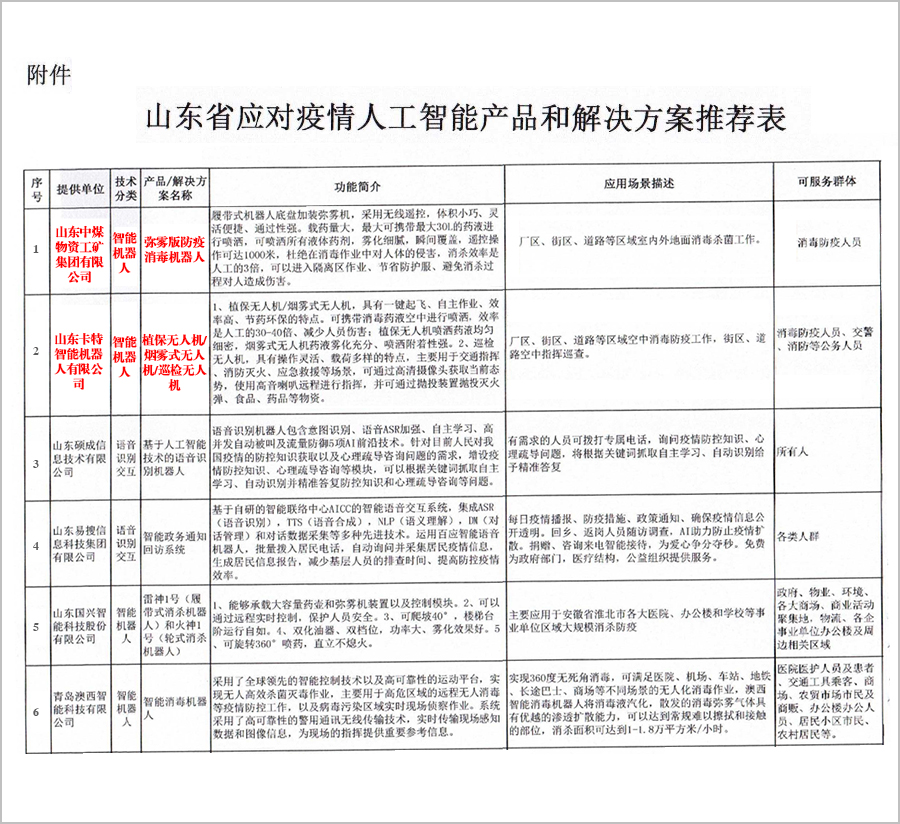 Provide more effective and intelligent means to fully combat the new type of coronavirus pneumonia, and give full play to the important role of artificial intelligence products in epidemic prevention and control. Products and solutions. Three types of artificial intelligence, namely the "Mist version of the epidemic-killing robot" produced by China Coal Group Intelligent Machinery Co., Ltd. and the "smoke-type plant protection drone and inspection drone" independently developed by China Coal Group's Shandong Carter Intelligent Robot Company The product has been selected as the recommended catalogue of artificial intelligence products and solutions for the new type of coronavirus pneumonia epidemic by the contribution to the current epidemic prevention and control.
The epidemic prevention and killing robot is independently developed and produced by China Coal Group Intelligent Manufacturing Company. The product is equipped with a misting machine on the crawler robot chassis and adopts wireless remote control. It is small, flexible, convenient, strong, and has a large drug load. It can spray all Liquid medicine, fine atomization, instant coverage, can carry a maximum of 30L of liquid medicine for spraying. At the same time, the robot's remote control operation can reach 1000 meters, which completely eliminates the harm to the human body during the killing operation. The killing efficiency is three times that of manual operation. It can enter the quarantine area to save protective clothing and avoid harm to the killing process. , Mainly used for epidemic prevention and killing work on the ground of factories, communities, hospitals, roads and other areas.
The smoke-type plant protection drone is independently developed and produced by Shandong Carter Intelligent Robot Co., Ltd., a subsidiary of China Coal Group. This machine is different from the smoke-type helicopters commonly used in the market. It is a simple multi-rotor with a modular design, which is extremely convenient to use and maintain. , Unparalleled stability, good waterproof, anti-fall, anti-fault effect. The drone has the characteristics of one-button take-off, autonomous operation, high efficiency, and drug-saving and environmental protection. It can carry the disinfection liquid spray in the air, the liquid spray is fully atomized, the spray adherence is strong, the spray liquid is uniform and fine, and the efficiency is manual. It can greatly reduce personnel injuries, which is mainly used for airborne epidemic elimination in factories, communities, roads, and hospitals.