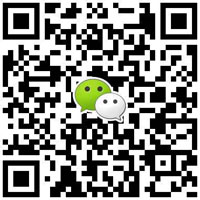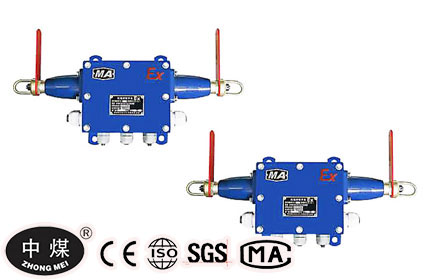 KG9001A rope latching switch
KG9001A rope latching switch is mine intrinsically safe electrical equipment.Suitable for gas and coal dust dangerous environment in coal mine , is also applicable to coal, metallurgy, chemical indust
Related Products
KG9001A rope latching switch product summarize:
KG9001A rope latching switch is mine intrinsically safe electrical equipment.
Suitable for gas and coal dust dangerous environment in coal mine , is also applicable to coal, metallurgy, chemical industry, building materials and other industries as well as the coal preparation plant, power plant, steel plant, port and other bad environment, used for rope emergency closure protection along the conveyor.
KG9001A rope latching switch main technical parameters
Contact capacity : AC380V,DC220V,5A
Contact number : 1 set each trip switch is normally open, normally closed 1 group
Enclosure protection grade: IP65
Action force : 120~170 N
trip :  8~10 mm
Reset form : manual reset
weight : 7.5kg
Outlet introduction cable diameter: lower outlet (3)6~12 mm      
both sides outlet(2)15~20mm
KG9001A rope latching switch product features:
1. Both ends adopts  plastic packaged rope, manual recovery action instructions;
2. Good sealing performance, reliable operation, easy maintenance;
3. Internal switch adopts fault location coding identification circuit ;
3. Outlet connection using the form on each side of a larger outlet, there are three smaller lower outlet;
4. Adopts mix connection form of connectors and the horn mouth, there are three horn mouth and two 8 core socket;
5. Deviation, vertical tear protection device and the signal can be the nearest access lockout switch, you can save a lot of cable
KG9001A rope latching switch Photo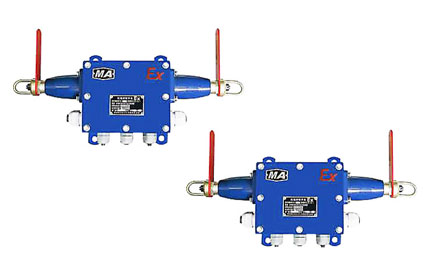 Because of the production batch, the specific model are different, the above pictures are only for reference , you can contact our sales staff for further details on the specific verification.
B/L of the History Trading