PRODUCT INTRODUCTION
DW SINGLE
HYDRAULIC PROP
DW Single hydraulic prop for seam angle is less than 25 degrees - 35 degrees inclined coal seam mining face,the adaptation of the coal seam roof and floor conditions are: roof pillars behind do not affect the recovery of base should not be too soft, prop depth is not pressed into the floor deterioration of the integrity of the base plate, or should increase the base.
In the coal mining face relatively loose cannon when used on the live cylinder coating surface to take protective measures to prevent collapse.

With wooden roof beams and pillars or columns used to do, you should replace the column caps cover to prevent damage to wooden beams.
Structure display
When the load exceeds the rated working resistance of the pillar, the high-pressure liquid will open the safety valve in the three-purpose valve, the liquid will overflow, and the pillar will shrink; when the load on the pillar is lower than the rated working resistance, the safety valve will be activated by the safety valve spring. Closed, the liquid stops spilling.
1. Base 2. Oil cylinder 3. Living cylinder 4. Three-purpose valve 5. Locking part 6. Handle body 7. Top cover 8. Wing nut
Factory
direct sales

Massive inventory

Integrity merchant

Support customization

After sales service
PRODUCT ADVANTAGES
DW SINGLE
HYDRAULIC PROP
The DW single hydraulic prop has good stability and outstanding technical advantages.
The height of the single body support of the top grade coal mining face is raised from 2.5 meters to 3.5 meters.
The coal seam under 3.5 meters can achieve the full height of the coal seam.
At the same time, it can provide end and advance support for the coal seam under the thickness of the coal seam under the thickness of 4.5 meters.
DW SINGLE HYDRAULIC PROP
Not only meet the requirements of production and operating process conditions, but also the operation is simple and not affected by heat,
Reduce operating costs and reduce maintenance costs
Each specification can replace 2~4 traditional single pillars,
It reduces the frequency of replacing different types of single pillars due to changes in various factors, thereby reducing manual labor and additional spare numbers of pillars.

DW single hydraulic prop adopts special surface treatment process
The pillar is anti-corrosive and wear-resistant.
And the characteristics of anti-bubble collapse, the working medium uses the neutral water of the coal mine underground to ensure that the working environment and groundwater are not polluted.
PRODUCT
DELIVERY SITE
DW SINGLE
HYDRAULIC PROP
QUALITY ASSURANCE, QUALITY FIRST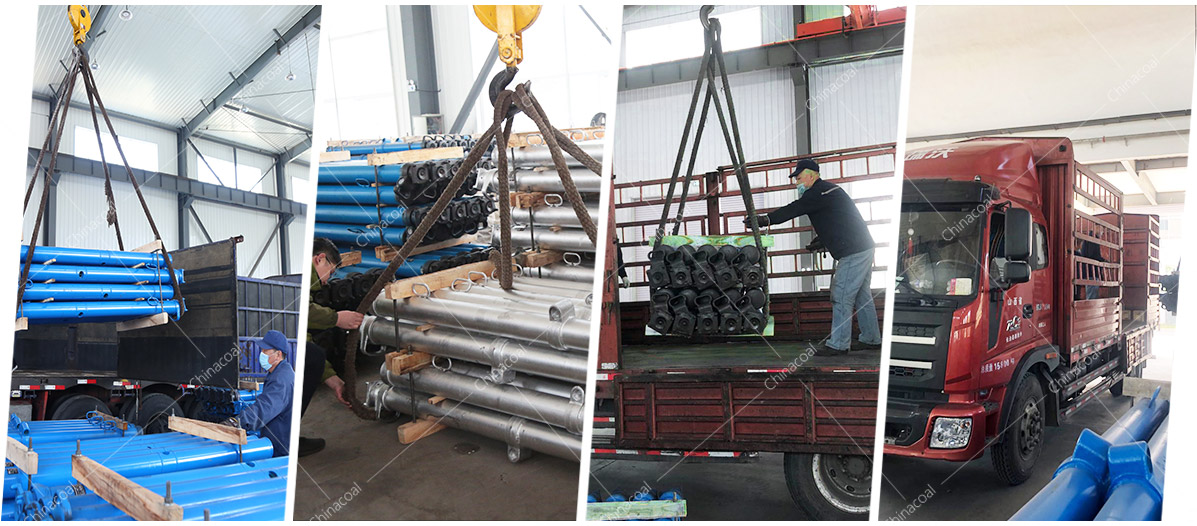 PRODUCT
PARAMETER
DW SINGLE
HYDRAULIC PROP
PARAMETER OF DW SINGLE HYDRAULIC PROP
Model Item
Max height(mm)
Min.Height(mm)
Working Stroke(mm)
Rated working resistance KN
Weight (Kg)
Rated working Pressure MPa
Hydraulic pump pressure MPa
Setting load KN
Cylinder Dia. (mm)
Emulsion Liquid
DW06-350/110X
630
400
230
350
25
39.7
15-20
132-176
110
Emulsion containing 1% to 2% M10 emulsified oil
DW08-350/110X
800
490
310
28
DW10-350/110X
1000
595
405
32
DW12-350/110X
1200
700
500
36
DW14-350/110X
1400
810
590
40
DW16-350/110X
1600
920
680
44
DW18-350/110X
1800
1035
765
48
DW20-350/110X
2000
1150
850
52
DW22-350/110X
2240
1280
960
56
DW25-350/110X
2500
1430
1070
60
DW28-350/110X
2800
1600
1200
66
DW31.5-350/110X
3150
1780
1370
74
DW35-350/110X
3500
1960
1540
82
DW38-250/110X
3800
2163
1637
250
88
28.3
DW40-250/110X
4000
2224
1780
96
DW42-250/110X
4200
2330
1880
100
DW45-250/110X
4500
2480
2020
110