HYZ SERIES OXYGEN BREATHING APPARATUSES
SCOPE OF APPLICATION
suitable for use in underground, tunnel, a narrow environment requires the actual use of the ambulance crew. HYZ series of positive pressure oxygen breathing apparatus can be work in any
Toxic and anoxic environment.
MINE EXPLOITATION

FIRE RESCUE

METALLURGY

CHEMICAL PRODUCTION
HYZ SERIES OXYGEN BREATHING APPARATUSES
PRODUCT FEATURES
Lower respiratory resistance and breathe comfortably
with the features of open circulating air passage, stable and adequate supply, tracking and timely supply,comfortable to wear, etc. And it has been generally recognized for respiratory resistance, weight, small size, long time protection features, and advantages of high stability and reliability, simple structure, easy disassembly maintenance.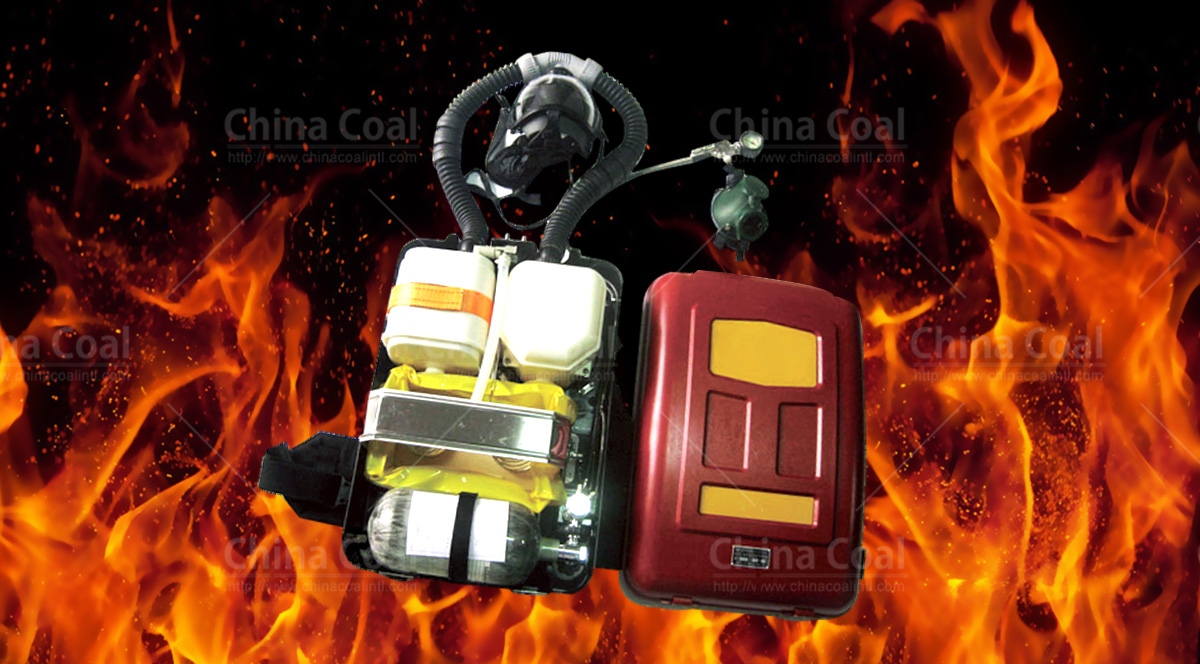 RESPIRATORY
RESISTANCE
SMALL WEIGHT
AND VOLUME
LONG
PROTECTION
TIME
STABLE AND
RELIABLE
SIMPLE
STRUCTURE

HYZ SERIES OXYGEN BREATHING APPARATUSES
TECHNICAL PARAMETER
Item
Specification
Type
HYZ-2
HYZ-4
HYZ-4B
Duration
120 min
240 min
240min
Working pressure for oxygen bottle
20 MPa
20 MPa
20 MPa
Capacity for oxygen bottle
1.4L
2.4L
3.0L
Oxygen storage
280L
480L
600L
Dimensions
518×370×160mm
560×370×160mm
580x430x190 mm
Weight
11 Kg
12Kg
12kg
Breathing rate
30L/min
30L/min
Exhaling resistance
(0~600)Pa
(0~600)Pa
0-600Pa
Inhaling resistance
≤700Pa
≤700Pa
≤600Pa
Fixed Oxygen-supplying
≥(1.4~1.7)L/min
≥(1.4~1.7)L/min
1.6±0.2L/min
Manual or automatic oxygen-supplying
≥80L/min
≥80L/min
100L/min
Start pressure for Auto-supplying valve
(10~245)Pa
(10~245)Pa
10-245Pa
Inhaling Carbon dioxide concentration
≤1%
≤1%
<1%
Inhaling oxygen concentration
>21%
>21%
>21%
Warning pressure for alarm
(4~6)MPa
(4~6)MPa
4~6MPa
Warning time for alarm
(30~60)s
(30~60)s
30~60S
Sound level
≥80dB
≥80dB
90b
SAFETY
In the case of isolation, it can ensure the supply of oxygen exactly matches with vital capacity of people
HYZ SERIES OXYGEN BREATHING APPARATUSES
INSTRUCTIONS FOR USE
Respirator equipped with calcium hydroxide in the cleaning tank, the system must be closed. Otherwise, the failure of the absorbent will lead to carbon dioxide poisoning accidents.
The calcium hydroxide filled in the cleaning tank must be tested and qualified, and the unused time shall not exceed three months. If it exceeds the prescribed time limit, carbon dioxide poisoning accidents may occur during use.
The cleaning tank must be refilled with calcium hydroxide after one use. Even if the wearing time is short, new calcium hydroxide must be replaced.
It is strictly forbidden to use in the environment below -20℃ and above 60℃. Otherwise, it will damage the performance of the respirator and cause personal accidents.
It is strictly forbidden to use the respirator in the environment where the pressure exceeds 0.05MPa (gauge pressure). Otherwise, oxygen poisoning accidents may occur under high pressure.
In the filling of oxygen cylinders and other operations, it is strictly forbidden to touch open flames or be contaminated with grease. Otherwise, it will cause burning and other accidents.