Warmly Welcome Thailand Siweiya Technology Co., Ltd., Chairman Joe MA Visit China Coal Group For Inspection
On the morning of February 10, Thailand Shiweiya Technology Co., Ltd Chairman Joe MA (Ma Xinguang) and General Manager MR.SATHAPORN and their entourage visit China Coal Group accompanied by leaders such as Wang Jichen, deputy director of Investment Promotion Bureau of Jining Hi-tech Zone, inspection on the drone manufacturing and Thailand's agricultural plant protection services and other related issues to visit the China Coal Group. China Coal Group Executive Deputy General Manager Li Zhenbo, Deputy General Manager Fan Peigong, Guan Chenghui, China Coal Group  Cross-Border E-Commerce Company Deputy Manager Tian Cong and Shandong Cate Intelligent Robot Company Manager Wang Hui and other leaders accompanied the reception.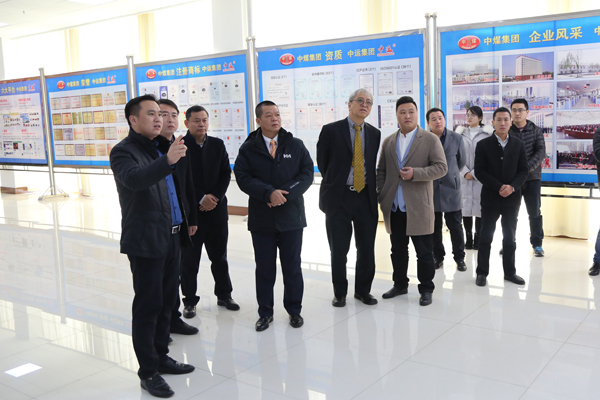 Guests and their entourage accompanied by Manager Li visited China Coal Group Office Building, Group Culture Hall, Intelligent Equipment Exhibition Hall, Intelligent Products Exhibition Hall and Carter Intelligent Robot Company. During the visit, Deputy General Manager Li , General Manager Li introduced the development of China Coal Group in areas such as e-commerce, cross-border e-commerce, intelligent equipment manufacturing and software research and development for the visiting guests. He also expounded the advanced experience and outstanding achievements of our group in the production and sales of agricultural plant protection UAVs and agricultural machinery, which were highly praised by visiting guests.
The high-tech plant protection UAV  independently developed by China National Coal Group mainly used for agriculture and forestry plant protection operations drones, it is composed by flight platform, GPS flight control, spraying agencies three parts, can spraying  medicine, seed, powder and so on  through ground-based remote control or GPS flight control, have the advantages of Low operating height, less drift, strong penetration, prevention and control of high efficiency, safety performance and so on. The products apraised by industry experts and users since put into market, have attracted Russia, Pakistan, Thailand, Japan, South Korea and many other overseas businessmen came to inspectionand procurement, product sales in the market leader in the industry ahead.
With regard to the research and development of aerial drone,  drone with portable spray bar for plant protection invented independently by China Coal Group had passed national utility model patents issued by State Intellectual Property Office. At present, this technology has been applied successfully to the development and production of UVA and smart products, which not only saved the cost and create profits, but also improved the core competitiveness of our group in the fields of drone. During the visit, the guests watched the live demonstration of agricultural plant protection drones.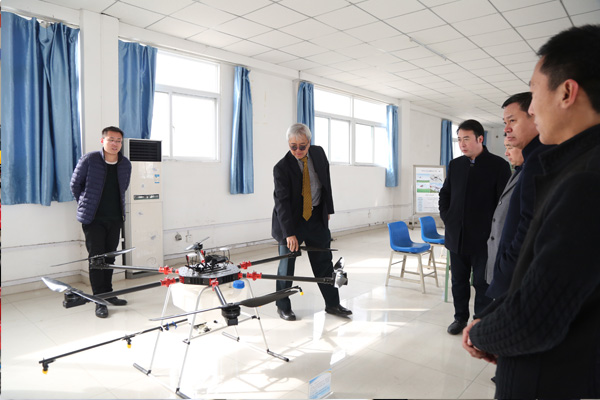 President Ma said they have witnessed the profound potential China Coal Group accumulated in the area of drones production, agricultural machine manufacturing and technological research and development through the all-round field investigation on the production capacity, production technology research and development, product qualification of UAV and agricultural machinery of China Coal Group. He expressed that if they have chance to invest in Jining, the big enterprise with strong essence as China Coal Group will be his priority to cooperate with, he hoped we can work together to push forward with the rapid development of agricultural plant protection drones and provide driving forces for global smart agriculture.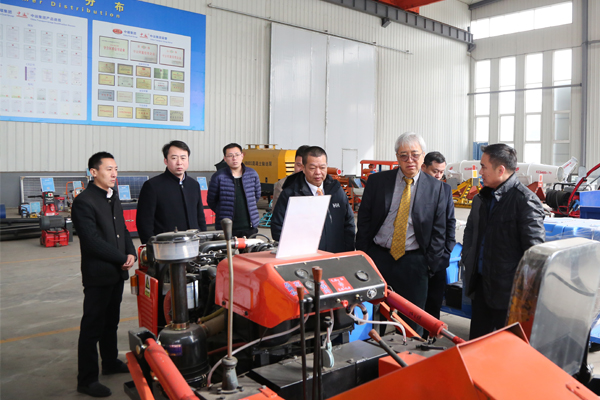 General Manager Lee , firstly ,thanked Chairman Ma for fully affirming the high-tech agricultural plant protection drone independently developed by China Coal Group. He said that Schweitzer is a subsidiary of USA Amway Enterprise, focusing on global commerce and the development of market project and having tremendous strength. We looked forward having a comprehensive cooperation in the fields of intelligent UAV manufacturing, the research and development of technology , product sales and so on. In 2018, China Coal Group is about to enhance the Group's high-tech strength in the field of intelligent control while speeding up the innovation and transition of high-tech industry and agriculture, striving to achieve the strategic goal about globalization fast.