0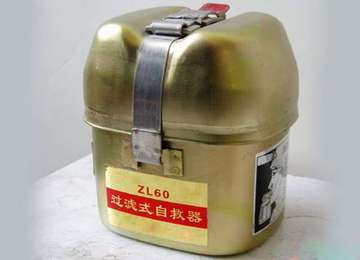 ZL60 Filter Self-Rescuer
ZL60 filter self-rescuer is suitable for mines that coal dust, gas and carbon dioxide are prominent.As mine personnel personal respiratory protective devices, it is used to prevent CO poisoning, so it
Related Products
Introduction Of ZL60 Filter Self-Rescuer
ZL60 filter self-rescuer is suitable for mines that coal dust, gas and carbon dioxide are prominent.As mine personnel personal respiratory protective devices, it is used to prevent CO poisoning, so it must be carried, ready for immediate use.
Meanwhile, the rescuer also apply to: (a) a variety of tunnel excavation and underground work processes hypoxic environment escape; (2) the concentration of oxygen in the ambient air is not less than 18%, CO concentration of less than 1.5%, excluding other use of poison gas in the air (3) only for personal use escape.
Parameters Of ZL60 Filter Self-Rescuer
(1) Protection Time: ≥60min
(2) Item 30L/minventilate 85L/minventilate
Expiratory resistance(Pa) ≤98 ≤340
Inspiratory resistance(Pa) ≤275 ≤880 0
Outer size: 103mm*96mm*134mm
Machine quality: ≤1100g
Feature Of ZL60 Filter Self-Rescuer
(1) After wearing filter,the below vision is not less than 40 degrees.
(2) using the desiccant should be consistent with the provisions of MT868-2000 requirements.
(3) The catalyst (catalyst for oxidation of carbon monoxide should meet the requirements MT869-2000).
(4) using dust carpets, dust effect.
(5) filter with saliva baffle to prevent saliva flow bottles of medicine.
Pictures Of ZL60 Filter Self-Rescuer