0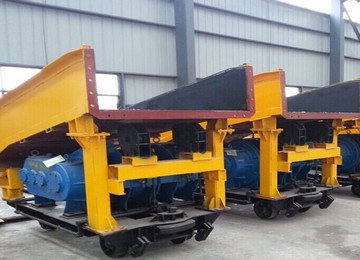 P-30B Scraper Loader
P-30B scraper loader(scraper type rock loader) consists of a fixed wedge, tail wheel, rake bucket, transmission parts (including control mechanism, trolleys, winches), steering wheel, trough (feed chu
Related Products
Introduction Of P-30B Scraper Loader
P-30B scraper loader (scraper type rock loader) is used for small and large coal mining and tunneling time zone with MGC1.1 fixed trunk tub or skip to load rocks, semi-coal purposes. P-30B rake bucket rock loader (rake rock machine) is suitable for rock roadway with 1.1 m 3 in the tub or skip for loading operations. For the roadway, which is clear height greater than 2 m, the net section 6 above. With high efficiency, simple structure, convenient operation. In the coal or rock roadway semi-use, it can also be used for the drift heading face down on the rocks, loaded, like adding the tail wheel two, and can in turn mounted rock excavation roadway parallel operations between processes. P-30B Scraper Loader (scraper type rock loader) has electrical equipment (including motor), button switch, magnetic starter, lamp, etc. All can choose flame-proof type, and can be used in the mine which is a risk of gas and dust .
P-30B Scraper Loader Structure and Working Principle
P-30B scraper loader consists of a fixed wedge, tail wheel, rake bucket, transmission parts (including control mechanism, trolleys, winches), steering wheel, trough (feed chute, the middle slot, unloaded trough), and electrical parts and other major components. Scraper Loader mainly through two groups of winch drum, drawing the main rope, tail rope, respectively make reciprocating moving scraper. Scraper digS the rocks into the feed trough, through intermediate tank to the discharge of discharge outlet discharge into the car, so as to realize rock.
Parameters Of P-30B Scraper Loader
Model
P30B(A)
scraper bucket volume (m3)
0.3
Production Capacity (m3/h)
35-50
Rail Guage (mm)
600/900
Wire rope pulling force (KN)
12.3-18.5
Wire Rope Diameter (mm)
12.5-15.5
Motor
YBB11-4 11KW
YBB17-4 17KW
380/660
380/660
Overall size (mm)
5500
6110
1170
1305
1800
2000
Weight (kg)
4750
Pictures Of P-30B Scraper Loader