0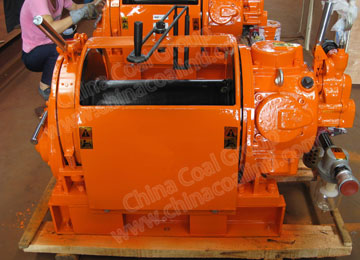 JQHS-20 *18 Pneumatic Air Winch
JQHS-20 *18 Pneumatic Air Winch is driven by air motor,though gear reduction organization to drive drum,accomplish the traction and hoist function. Pneumatic Air Winch bear compact structure, easy ope
Related Products
Introduction of JQHS-20 *18 Pneumatic Air Winch
JQHS-20 *18 Pneumatic Air Winch is driven by air motor,though gear reduction organization to drive drum,accomplish the traction and hoist function.
Pneumatic Air Winch bear compact structure, easy operation,safe and reliable,easy maintenance,smooth operation, stepless speed change.
Air Winch as explosion proof traction,hoist power equipment,it is especially us in mining,oil field,geology drilling work, highly combustible and explosion hazard place.
Parameter of JQHS-20 *18 Pneumatic Air Winch
Item
Specification & Technical Parameter
Model
JQHS-20 *18
JQHS-30* 12
JQHS-50* 12
JQHS-100* 8
JQH-5* 48
JQH-10* 24
Rated Pulling
force
20KN
30KN
50KN
100KN
5KN
10KN
Max speed
of wire rope
18m/min
12m/min
12m/min
8m/min
48m/min
24m/min
Rated Power
5.6kw
12kw
16kw
30kw
2.6kw
3.6kw
Rated Intake Air
Pressure
0.6Mpa
0.6Mpa
0.6Mpa
0.6Mpa
0.6Mpa
0.6Mpa
Rated Air
consumption
5m3/min
10m3/min
12.7m3/min
24m3/min
2.0m3/min
2.3m3/min
Rope capacity
100m
200m/400m
200m/400m
200m
80m
80m
Diameter of
Wire Rope
12mm
16mm
18.5mm
24mm
8mm
10mm
Overall size
560* 360* 460mm
1250* 500* 700mm
1300* 520* 760mm
1500* 720* 920mm
560* 360* 420mm
590*380* 460mm
Weight
200kg
500kg
550kg
1100kg
130kg
160kg
Figure Pictures of JQHS-20 *18 Pneumatic Air Winch