Congratulations To China Coal Group Chairman Qu Qing For Being Employed As The Shandong Province Innovation And Entrepreneurship Education Tutor Expert
Recently, after strict examination and evaluation of several procedures, the Shandong Provincial Department of Education issued a list of experts of Shandong Innovation and Entrepreneurship Education Tutor Bank. Quqing, chairman and general manager of China Coal Group, was appointed as an expert of Shandong Innovation and Entrepreneurship Education Tutor Bank for two years.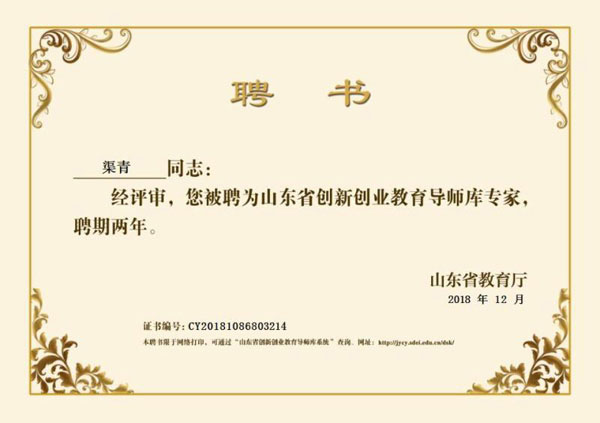 It is reported that Shandong Innovation and Entrepreneurship Education Tutor Bank is composed of excellent innovative and entrepreneurial talents from all walks of life and professions recommended by colleges and universities, and university teachers with high theoretical level and practical experience. The purpose is to gather high-quality and shared resources of innovative and entrepreneurial teachers, to give full play to the role of tutors in education guidance and guidance, and to improve the pertinence, timeliness and effectiveness of innovative and entrepreneurial education. Strengthen students'innovative spirit, entrepreneurial awareness and innovative entrepreneurial ability, improve the quality of personnel training, and strive to create a new force of mass entrepreneurship and innovation.
Qu Qing, outstanding entrepreneurs of China's machinery industry, outstanding entrepreneurs of Shandong Province, Shandong Province, industry, university and research cooperation innovation individual, Shandong Province, two integration of advanced individuals, Shandong Province enterprise information construction advanced individual, Jining City Chamber of Commerce Vice President, Jining Under the leadership of the 13th Executive Committee of the City Federation of Industry and Commerce and the Board of Directors of Jining College, under the leadership of China Coal Group, China Coal Group actively responded to the call of the national "Popular Entrepreneurship and Innovation" and accelerated Promote the transformation of old and new kinetic energy, and successfully transform from the traditional sales model to the modern e-commerce sales model, which has promoted the rapid development of the province's e-commerce information industry, and has become an industry model for promoting the transformation and transformation of traditional enterprises by e-commerce informatization in Shandong Province and even the whole country.
Mr. Qu said that he is honored to be employed as an expert in the Shandong Province Innovation and Entrepreneurship Education Instructor Library. In the next step, the Group will make full use of the advantages of the innovative and entrepreneurial mentor talent pool resources and effectively play the role of the warehousing instructors through the Jining City under the China Coal Group. The Industrial Letters Vocational Training School conducts entrepreneurship training for college students, and provides guidance and assistance for college students' innovation and entrepreneurship. It contributes to the province's innovation and entrepreneurship education and entrepreneurship training!